Laser Projector V1
Introduction
---
Construction
---
The stepper motors are held by aluminium sheets, formed into the "L" shape.
A platter from an old HDD had been cut into the 2 rectangular shaped metallic mirrors.
Motor Shield V2 is used to control steppers. On the "development board" part of the shield, a simple circuit is built, to interface the photodiode (used to home the position of the laser) and the transistor switched laser.
Software
---
The app is used to remotely control the projector in the "serial" mode. It can be controlled remotely by using your computer's bluetooth adapter. When a new bluetooth device is added, a COM port is automatically assignt to it. This COM port is used in the application for connecting to the projector. Make sure to have .NET framework 4.5.2 installed on your computer to run the app.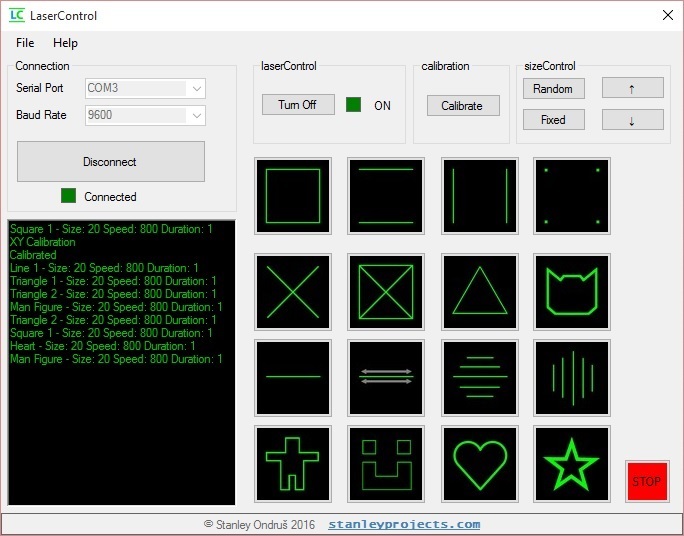 Summary
---

Hackaday article
2D XY laser scanning
Laser blanking
Automatic mirror homing
Bluetooth control
Windows control app
Automatic mode
Components
---
Arduino UNO
Motor Shield V2
2x NEMA14 - 5V - 0.9° stepper motor
HC-05 Bluetooth module
BC547B NPN Transistor
5mm photodiode
3x 5mm LEDs
SPDT Switch
DC Socket Panel Mount
Resources
---